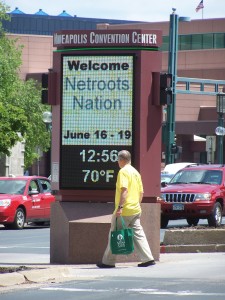 Netroots Nation is the annual gathering of online progressive activists that was started 6 years ago by the folks at DailyKos.com as YearlyKos. The name was changed after the second gathering to be more inclusive of other online groups and blogs, and it has grown in attendance every year since. This year's festivities are taking place in Minneapolis at the Minneapolis Convention Center with over 2,500 attendees. Minneapolis is an absolutely wonderful city, one of the most bike friendly cities in the country with bike lanes on all of the major thoroughfares in the downtown area. The traffic lights are timed perfectly for someone walking the city blocks, as you approach the corner you get the walk signal and you rarely have to even break your stride, let alone wait for traffic.
I was lucky enough to get a few minutes of face time with Markos Moulitsas of DailyKos fame, and I had a book of comics from Tom Tomorrow signed by the author himself. If you haven't seen Tom's work before, go to DailyKos.com where he is the reigning head cartoonist. We've heard from many luminaries in the progressive movement such as Howard Dean, Russ Feingold, Debbie Wasserman-Schultz and many more. I've attended three organizing workshops sponsored by Democracy for America, the organization started by Dr. Dean in 2004, and I can't wait to share what I've learned with all of our organizers back home in Massachusetts! Of course, I've also been plugging ORGANIZE!, the online organizing software I've been developing for GBV Dems to use in our efforts at turning the valley blue.
The conference runs from from Thursday to Sunday, 6/16 to 6/19. My daughter is here with me, making us one of the very rare inter-generational attendee pairs. She's having a blast, attending many breakout sessions on women's issues and thoroughly enjoying herself. She's sitting next to me right now, reading a book about revamping our dietary habits, and she just told me that butter is better for us than margarine!